The rural Mboza region of South Africa has been producing fruit for many years, even through the struggles of Covid-19 and the horrendous shopping mall raids earlier this year. As people received Christ and churches were planted, the need for Bibles grew. Harvesters Ministries, thanks to your generous giving, was able to respond.
A team of 43 Harvesters Ministries' staff and supporters visited Mboza to distribute 1,056 Zulu language Bibles!
The trip included training and evangelising as they travelled around the villages. At the start of the journey, the team visited Jozini town and delivered evangelism teaching to the 40 students who are beginning their Harvesters Ministries training programme.
Later, in Ingwavuma, 28 new students were trained in evangelism, and they went out and led 46 people to Christ that day (plus they saw 31 people recommit to Him)! We praise God for each one of them.
Isaiah 55:11 So shall My word be that goes forth from My mouth; It shall not return to Me void, but it shall accomplish what I please, and it shall prosper in the thing for which I sent it. (NKJV)
The pastors were enormously grateful to get their special deliveries. "I'm so excited," said Pastor Wilson Nhlozi. "Before, our members had no Bibles. Now it will be easy for me to teach them. Thank you."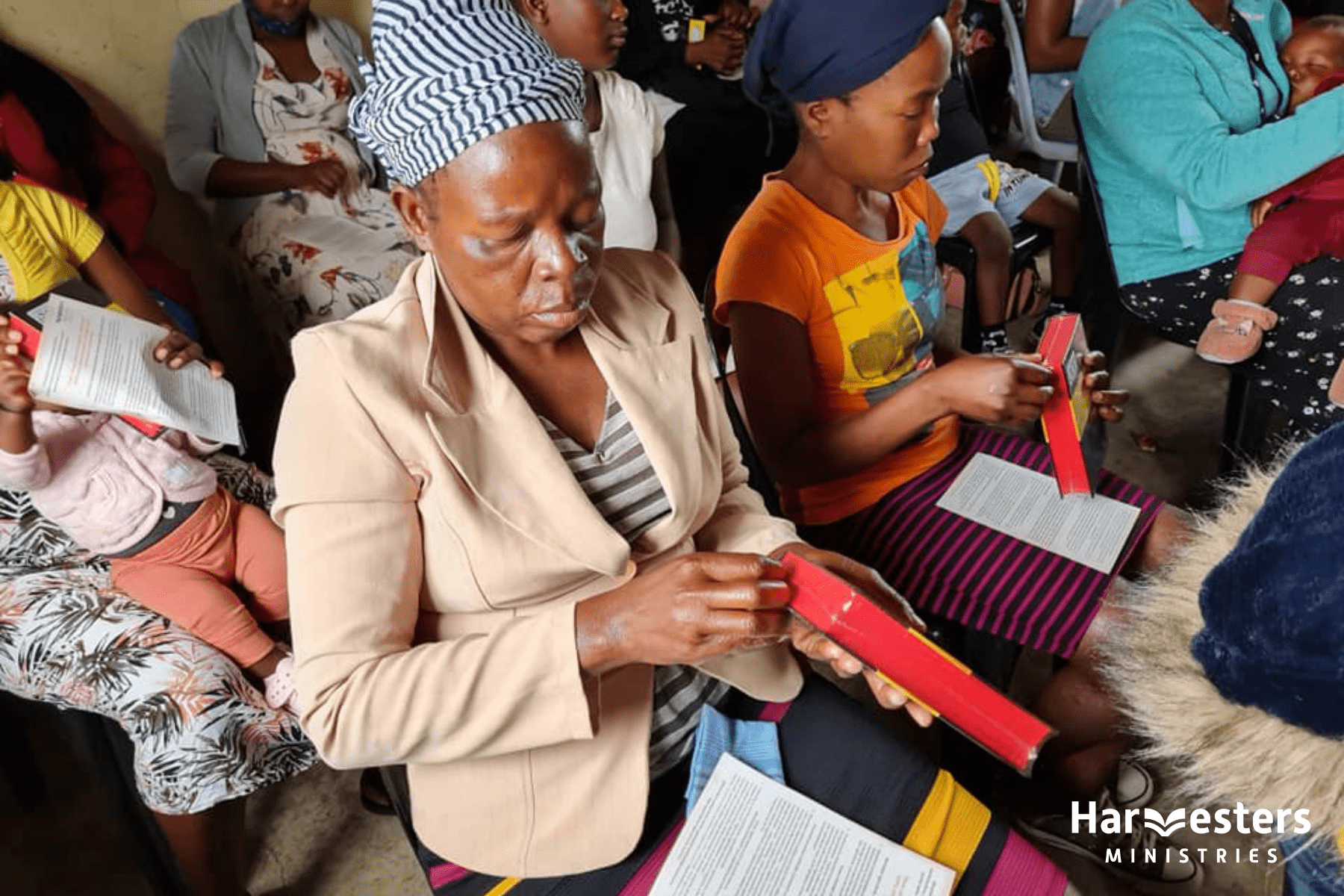 Pastor Harris from Mseleni explained that his congregation are learning how to use their new Bibles. "When the Pastor was preaching and saying they must open the Bible, it was hard to open the Bible because they have never had before," he said. "It was for the first time to have a Bible, so that is why it was difficult. When you say 'look', they don't know where to look – in the Old Testament, in the New Testament." As they engage with the Word, we pray that these believers will not only get used to using the book – but grow deeper in their knowledge of Christ as well.
Over the course of the trip, 25 churches that have been planted by the Harvesters/4Front Missions partnership, received Bibles in their local language – Zulu. As each of the 1,056 Bibles were placed into the hands of the receiver, they were prayed for. Now, we want to continue praying for each person who was given a Bible in Mboza.
Prayer Points
Pray for each person who has received a Bible that they will begin to understand the practicalities of using it. That they won't see it as too complicated to use, and they will read it as their daily bread.
Thank the Lord that His Word does not return void. We pray that the Mboza Christians grow deeper in their faith and stronger in their relationship with God as they read their new Bibles.
Pray that knowledge will grow and will be outworked in the communities around Mboza. That as the believers learn more about the values and teachings of Christ, they will be challenged to go out and spread the Gospel.
Pray for all the new believers who committed their lives to Jesus as a result of the evangelism events. Pray they will remain strong in their faith when life is tough. Thank the Lord for the church plants where they will find a home. Pray for unity and fellowship.