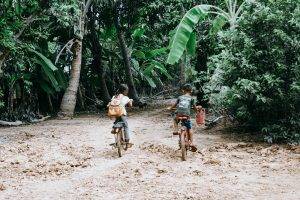 This has been both a strange and interesting year. No one could have predicted that a global pandemic would hit and affect us all in such a severe way. The majority of the world's countries experienced national lockdowns and are now facing economic crises. Third World countries are suffering the most.
Despite all of this, 2020 is a year of celebration for Harvesters Ministries. We are celebrating 20 years of Church Planting. None of this would have been possible without your generous gifts over the past 20 years.
It has been amazing to see how God has expanded this ministry from 1 church in Malawi to more than 70,000 churches worldwide. By the grace of God pastoral training is currently happening in 43 languages – 20 years ago this was all just a dream.
Fear is not from God
When the pandemic was announced and all international travels were cancelled, it was human nature to feel uncertain, but our faith is in God. Fear is not from God. Let's never give the devil an opportunity to cause us to be despondent.
The phrase, "Do not be afraid", is written in the Bible 365 times. This is a daily reminder that we should place our hope in Jesus and stop living in fear.
Despite all of these struggles, God has opened new opportunities to train pastors and church leaders in Evangelism, Discipleship and Church Planting. Most of the training is currently taking place via internet technology and some of the lockdowns have been relaxed. It is now possible for some local church leaders to travel to villages and share the Gospel with unbelievers.
People are Hungry for the Truth
Many people are placing their hope in worldly things instead of placing their faith in Jesus Christ. This pandemic has left people across the world looking for the Truth. People are hungry for Jesus and the result is that many people have placed their trust in Jesus during this time.
One story from Myanmar really touched our hearts. The Burmese government are allowing public gatherings again. Many of the church leaders grabbed this opportunity to reach out to neighbouring villages. Pastor Kyar* said that people were eager to hear the Good News. Many people, young and old, accepted Jesus Christ as their personal Redeemer and Saviour.
Many of these pastors also received much needed aid. The Coronavirus pandemic have left people in terrible circumstances. Many pastors and their families were starving and struggling to put food on the table. It was impossible for them to earn a living during the lockdown.
Thanks to loyal donors it was possible to reach these pastors and their families with much needed food parcels. These families took this opportunity and shared the little that they had with their neighbours. Many of these families that they helped were unbelievers and accepted Jesus Christ after they experienced this openhearted kindness and generosity.
*Name changed for protection