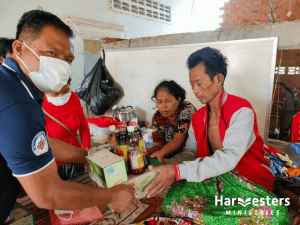 Towards the end of last year, a series of typhoons hit Southeast Asia, with "many describing the flooding as the worst in living memory," explained Sidney Moss, Harvesters' Regional Director for South East Asia.
The 225kph (140mph) winds and torrential rains left behind widespread damage. Thousands of people were displaced, roads were submerged, roofs were ripped off, and hundreds tragically died. Over 2.5 million people were affected throughout the Philippines, Thailand, Vietnam and Cambodia.
To hear more about the devastating events and effects of these typhoons, watch the video below of Harvesters' reporting at the time.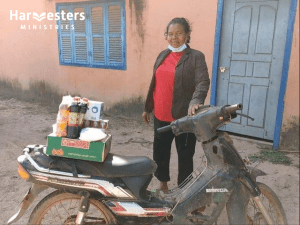 Harvesters Got to Work
One country affected was Cambodia where flash floods, strong winds, landslides and high tides compounded the existing Covid-19 crisis. Located south of Thailand and east of Vietnam, this nation saw 26,000 people evacuated, 60,000 homes lost, and 20 people lose their lives.
Thanks to your help and generous gifts, Harvesters was able to provide emergency necessities tothose in need through our network of churches. Parcels were packaged and loaded onto the backs of motorbikes, a common mode of transport In Southeast Asia.
One Stream Leader went from house to house, visiting each Hub Leader to encourage them, deliver food and to say that Harvesters Ministries has not forgotten them.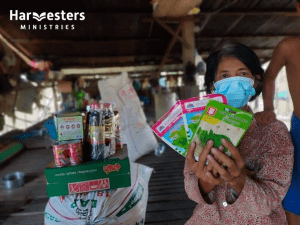 "As if the Covid pandemic has not been difficult enough to cope with, now we had to overcome flooding too, damaging many crops, which is particularly difficult given the economic challenges we Cambodians are already facing. Thank you, Harvesters Ministries, for your help," said one Hub Leader. The relief and gratitude were evident.
In addition to food, each parcel also contained vegetable seeds for replanting as soon as they are able to. A great treasure at a time when many are unsure how they will cope.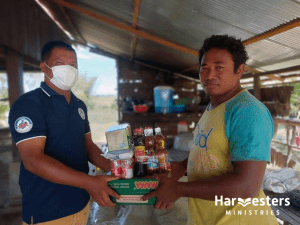 The Heart of Jesus
In the midst of their own tragedy and loss, local pastors are still utilising this opportunity to show the love of Christ to their neighbours. In an overwhelmingly Buddhist country, Harvesters-trained Christians are being salt and light in their communities.
One leader shared, "I have received freely today and so I will also share freely to my neighbour who is a non-believer, a devout Buddhist."
'Truly I tell you, whatever you did for one of the least of these brothers and sisters of mine, you did for me.' Matthew 25:40
Watch the Video