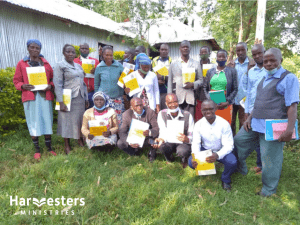 Kenya, like many countries, was hit hard with the Covid-19 virus. As infection rates rose and lockdowns ensued, the ability to meet and train in Kenya was temporarily halted. After weeks of postponement, training was able to pick up again at the start of this year. Including in a new location.
High up in the hills of the mountainous sub-county of Nyamarambe, 22 new student pastors gathered together, excited to begin a new journey. Dylan, Harvesters Country Director for Kenya, travelled to the host church to provide the three-days' training. "These people they are fired up. They are fired up to continue and to go on with the Gospel," said Dylan.
The training they completed was Phase A. This phase teaches about transformational discipleship and the disciplines we should adopt to live a healthy and holy Christian life.
Important Realisations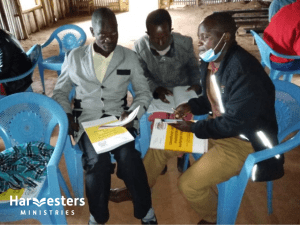 During the first day of training, one of the students realised the importance of discipleship. The student, Justin, began a discussion regarding the churches around the region that had died because the leader was not able to disciple well. Dylan explains that church leaders need training on discipleship "because the pastors have not been well equipped on discipleship processes and discipling their church members and church leaders." The students are so grateful to Harvesters for bringing this training to the region.
The pastor of the host church and one of the students, Bishop Paul Oyagi, expressed, "Wow, if at least we had something like this there before! If we had such a training from the beginning of our ministries in this [community] we could have reached very many people. So, we are so happy! Not only me, but the entire community, have seen that now there is a great impact that is going to happen in our community. Because now, through the 22 students who are undergoing [the training], they are, with me, [able] to reach more people, making disciples."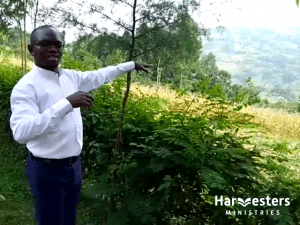 The excitement and hope among the students are evident. The Harvesters training is providing necessary knowledge and practical tools that they can take back to their communities to spread the Gospel.
As Dylan speaks on top of a mountain, looking down over Nyamarambe, an image of influence comes to mind. Let's pray that these students will become a beacon of light throughout this region, raising the bar for church leaders and transforming communities with the Truth and Good News of Jesus Christ.
"You are the light of the world. A town built on a hill cannot be hidden." (Matt 5:14)
You Can Help
The realisation of these students in Nyamarambe is a dim reality in many more regions throughout Africa and the world. A lack of basic scriptural understanding from church leaders can impact the Spiritual health of their communities. The training that Harvesters has provided to these 22 students will bring change to dozens, even hundreds, of people. They have begun a three-year programme that will provide information to live a mature Christian life, evangelise to the lost, plant churches and help disciple other believers.
To train a pastor costs £150 ($200/R3,000). This covers all three years and includes six training modules and a Bible in their native language. During the three years each student will plant three churches. Your gift of £150, or £12.50 ($15/R250) monthly, will provide this for one student and the impact can bring change to many, many more.
To give, click here.