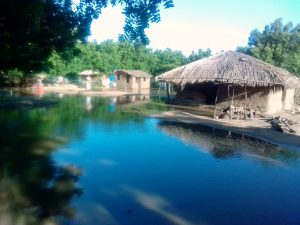 As you know a catastrophe has hit not only Mozambique, but Zimbabwe and Malawi was also drastically affected by Cyclone Idai. At this stage 215 deaths have been recorded. The death toll is expected to rise as authorities continue to assess the situation.
Hundreds of people are still missing. Tens of thousands are stranded. Furthermore, people are cut off from roads and telephones in rural and poor areas. More than 1,5 million people's lives were impacted in the three southern African countries. The magnitude and the scale of destruction has never been witnessed in these three southern African nations before!
Despite what has been done, the amount that has been spent, the prayers prayed and the sacrifice of missionaries and believers – we seem to be losing ground, not gaining.
Beira, Mozambique's central port city, was hit the hardest with winds of up to 177 km/h (106 mph). From there the storm moved westward into Zimbabwe and Malawi, affecting thousands more.
A Call to Action!
We received a report from one of our regional leaders in Mozambique. He shared the devastation that cyclone Idai left behind.
He visited some of the churches and found that many of our student pastors have lost all of their training materials, including their Bibles which they received last year June during the Harvesters Ministries Bible placement.
Twelve churches are completely destroyed, including the houses of pastors. There are hundreds of villages in and around Chimoio, Manica, Beira and Tete that have been affected by this severe storm.
Harvesters sent a consignment of training materials to our storehouse in Chimoio last year to train hundreds of student pastors – these books were also damaged. We are still waiting to hear from all of our people on the ground to determine the extent of the damage suffered.
We need to replace these books and Bibles urgently to ensure that, even in the midst of this catastrophe, new churches will be planted as many will seek refuge in the Lord. This is the best time for the Church to step up and make a significant difference.
Your contribution will make an immense difference in the lives of many of our brothers and sisters in Mozambique. Help us to restore people's hope!