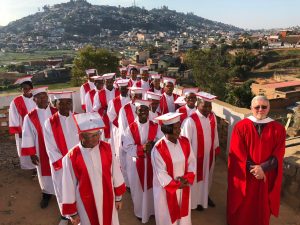 "Every time I fly over Madagascar I feel excited and I know that this is where God wants me to be," says Mac Hayward, a church leader from Port Elizabeth who has been working in Madagascar for the past six years with Harvesters Ministries. Mac has more than 44 years' experience as a church leader and has been involved in missions for many years. He believes that the Harvesters Ministries Hub-model is very effective – it teaches pastors how to evangelise the lost effectively, how to train student pastors and plant functioning churches. This is discipleship in action – and the Great Commission.
"I was a little like Jonah at first. I didn't want to go back to Madagascar," explains Mac. "We are constantly fighting a spiritual battle when we go on missions. It's not always easy to go to the island and do God's work, it's hard, but it is extremely satisfying and rewarding." This is why Mac (who is already in his 70's) keeps on returning to this volcanic island.
Madagascar might look like a small island to you and me, but this island has a population of more than 26 million people. It is also rich in minerals and precious stones, but the Malagasy people will never allow an outsider to help them mine these stones. Too many people have come into this beautiful country and abused their power. The people of Madagascar are tired of being hurt. That is one of the reasons why the people of this country are extremely poor. They mainly farm with rice and have no specialist knowledge to mine the precious stones on their island.
Harvesters Ministries Opened the Way in Madagascar
Many years ago a group of pastors from Madagascar got together. They spent thousands of Malagasy Ariary on evangelists and bands. They then held a massive event that bore little fruit. This made them extremely negative and they welcomed Harvesters Ministries' help with open arms.
Harvesters Ministries visited this country for the first time six years ago. In one morning we explained to a group of 103 pastors how to evangelise unreached people. That group of pastors was sent out on that same morning. They shared the Gospel with as many people as they could. After a few hours they returned with a group of 550 people who chose to follow Jesus on that day. And it does not stop here! Every pastor had to write down the names and contact numbers of the people that they led to Christ and they started churches with these new converts. Today all of these converts are still planted in churches and disciples for Jesus Christ.
Since Harvesters Ministries have been involved on the island more than 200 pastors and student pastors have received training. "There is a Muslim threat on the island, they are placing themselves in strategic places, but we are placing ourselves strategically too," Mac explains. It is amazing to see God's Kingdom growing in Madagascar.
Recently Harvesters Ministries hosted a very special event in Madagascar where a group of 22 pastors graduated from the Harvesters Ministries training program. They were all dressed in stunning caps and gowns. Ready to go out and change Madagascar one village at a time.
A Pastor's Life in Madagascar
One remarkable pastor on the island is pastor Alain. He is the Chaplin to the Malagasy soccer team and one of the Hub-leaders in Madagascar. One-day pastor Alain felt that God was calling him to evangelise the unreached people of Sakalava. The name "Sakalava" means "people of the long valleys". There are no roads to take to get to these people and their villages.
Pastor Alain took a Bush-taxi up to the last point where he could and had to travel farther by foot. He walked more than 10km and had to cross a river to reach the village. As pastor Alain reached the river his guide warned him about the crocodiles in the river. "How do we cross the river without being eaten?" pastor Alain asked nervously. His guide replied calmly,"We throw a big rock into river. All the crocodiles will jump onto the rock once it hits the water and then we can safely cross the river." I wonder how many of us would still be obedient and spread the Gospel if we were threatened by crocodiles…
Pastor Alain was obedient. He crossed the river. He evangelised the people of Sakalava and continues to do so to this day!
Why does Madagascar Need Our Help?
Madagascar is one of the poorest countries in the world. Approximately 70% of its population are living below the poverty line and almost half of its children below five years old are malnourished.
Despite their poverty the people of Madagascar still have giving hearts. "Whenever we visit the country we receive gifts. They want to bless us. With our last visit we received Madagascar hats, baskets and straw mats which they made themselves," Mac thinks of this day fondly.
Only 64% of the population are literate. Harvesters Ministries have really lifted the literacy level of pastors and broaden their understanding of the Bible. We must never underestimate the powerful impact that the Word of God has in someone's life. "Some of these pastors are so poor and have never owned their own Bible. Harvesters Ministries provide these pastors with Malagasy Bibles. The pastors hold their Bibles close to their hearts once they receive it. Some of them even cry. This is a special moment that moves me every time," says Mac.