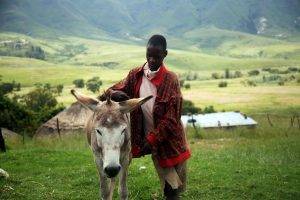 It has been difficult, and in most cases nearly impossible to travel, due to the COVID-19 lockdown regulations that has been implemented in many countries across the globe. Lesotho has been an exception to the rule. Representatives of Harvesters Ministries were able to travel within the country and minister churches.
One of the highlights of the team was to visit three newly planted churches – their pastors and congregations. These believers who live in this mountainous kingdom is ready to spread the Gospel and reach the unreached with God's Word.
You have helped us to reach Pastor Motsapi village, Ha Moosi. This small village is one hour's drive from Semonkong. One can only reach this village by travelling on dirt roads, mountain passes and eventually walking the rest of the way.
When walking into the village, the first thing that can be heard is the singing of the congregation. Seeing those smiling faces makes all the effort worthwhile. The sun shining on the green hills is truly breath-taking and a highlight of God's masterpiece.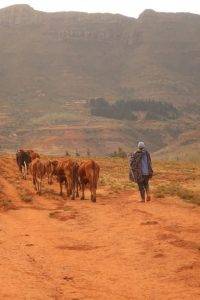 Pastor Motsapi is one of the pastors who received Bibles for his congregations during the January Bible Placement. Harvesters Ministries' project, Bibles for Believers, provides pastors and student pastors of newly planted churches with Bibles. However, this is not possible without the help of generous donors like you.
Pastor Motsapi is forever thankful that he received Bibles for his congregations. The Word of God is changing this community!
There is however always a need for more Bibles – especially in a rural and remote country such as Lesotho where the majority of the population live in poverty. They do not have the means to purchase a Bible of their own.
Believers receiving Bibles always rejoice. They are overwhelmed by these precious gifts.
The importance of the Gospel is highlighted in Mark 16:15 "He said to them, "Go into all the world and preach the gospel to all creation." There are still thousands more believers in Lesotho who are in need of a Bible of their own. The only way a believer can grow in his or her faith is by studying the Word of God.
Would you prayerfully consider sponsoring a Bible for a believer?