Thanks to supporters like you, 700 Zulu-language Bibles have been given to believers in South Africa!
Many who received one have never held a Bible in their hands and were truly grateful. People like Elizabeth Khumalo who received her very first Bible on her 67th birthday from Harvesters. She said:
"My heart is rejoicing as if I see the Lord right in front of my eyes! It's my first day of joy in my heart."
Harvesters Ministries visited churches in the KwaZulu-Natal region of South Africa to distribute Bibles and to deliver training. In fact, we even got a royal seal of approval to open the way in a new nation!
Believers Received Bibles for the first time
Can you imagine hearing about Jesus, choosing to follow Him, joining a newly planted church… and not having a Bible to grow deeper in your faith?
This is the reality for so many believers around the world – which is why it is one of our aims to distribute Bibles to those who need them.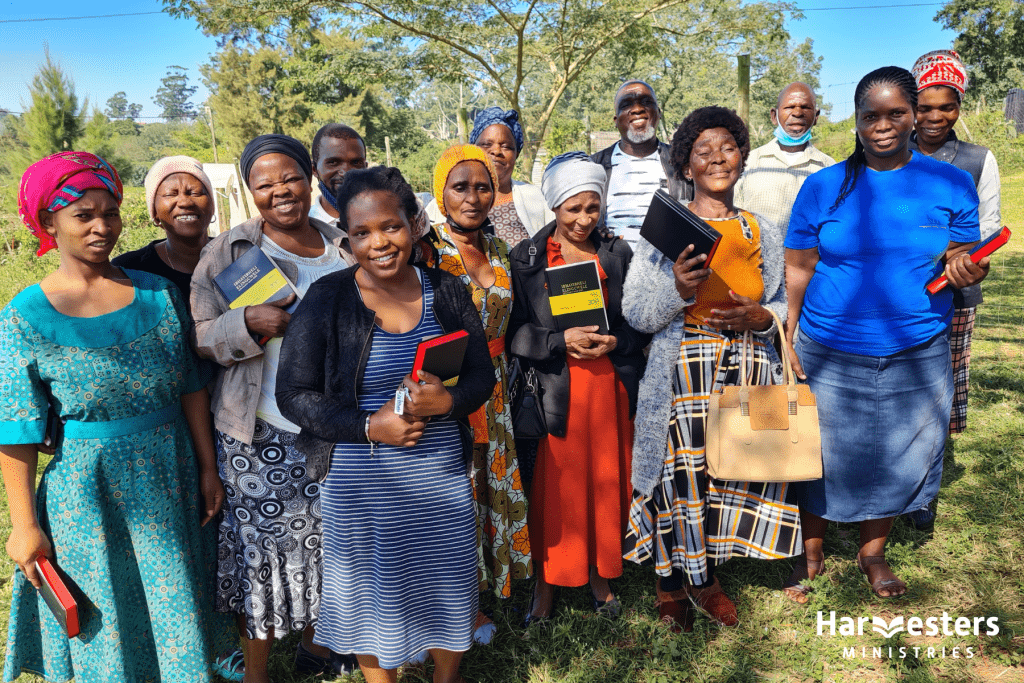 In May 2022, Harvesters visited the KwaZulu-Natal region of South Africa where nearly 200 churches have been planted through evangelism.
The KwaZulu-Natal province on the east coast of South Africa is generally mountainous. The land rises 11,000 feet from its long shoreline on the Indian Ocean, boasting an abundance of natural beauty.
The team visited 33 churches in mountainous villages such as Ingwavuma, Sicabazini, Manguzi, Mboza and Shemula, bringing Bibles to those who have never had one.
Mamma Francene is 86 years old. She is illiterate but she wanted to receive a Bible. When asked how she will be able to read the Word, she replied:
"My grandchild will read it for me. I will understand the Word of God because I love God."
Pastor Ntombi Buthelezi, who is almost finished with her Harvesters training, received 15 Bibles at her church. She is delighted that her congregation can now study God's Word together. She said:
"At church, when we do studies, we use our Bibles – we open it, we go through the verses. If you don't have a Bible, then you can't do all of this. [Receiving Bibles] even helped the individuals at home. To have a Bible is a treasure."
A Royal Welcome to a New Nation
Additionally, Harvesters conducted training with pastors in Ingweni village which is just 2km from the Eswatini border. Some of the pastors are from Eswatini and they will soon begin planting churches in their home country using Harvesters' church planting model.
Eswatini – formerly Swaziland – is a small, landlocked country in Southern Africa. The team could see the border from outside the church building.
The training took place on Friday and Saturday. On the Sunday, the team was invited to a special service which takes place once a quarter when all the denominations in the area come together.
Also in attendance was Prince Mngomezulu of the Royal Family of Eswatini. A very special guest, who had come to worship the King of kings.
"We asked if he is a Christian," said Beyers Brink, Regional Director for Southern Africa. "Then we discovered he is a pastor."
Prince Mngomezulu stood and welcomed Harvesters Ministries. "That really opened up the doors for us in the southern part of Eswatini because that's actually the area he is responsible for," said Beyers.
Harvesters will return later this year to Eswatini to deliver further training and to encourage and equip the leaders who are eager to reach the lost and disciple others.
Prince Mngomezulu, in the centre, welcomes Harvesters
Overlooking Eswatini
Watch the video