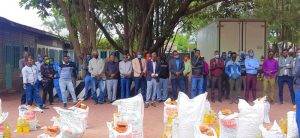 The COVID-19 pandemic has changed life, and the world, as we know it. Millions of people are still currently in lockdown in their countries. Many pastors and churches in Third World countries have no access to food. Without the intervention of generous believers and donors they will surely starve. One such country is Ethiopia.
"In 2018 God opened a mighty door for us as Harvesters Ministries in the beautiful country of Ethiopia in a partnership with Emanuel United Church of Ethiopia. Pastor Getahun Tadesse, the president of the movement, gave us the right hand of fellowship, so we started training church planters in Addis Ababa," said Thinus Botha, Regional Director of East Africa.
Ethiopia is a very strategic country in the infamous Horn of Africa. Many Christians from this region suffer severe persecution and hardship. Ethiopia as a nation is not new to handling and facing crises.
"COVID-19 has brought along new challenges for pastors and their families. For months they could not gather as believers and pastors had no income, causing severe problems and leaving many on the brink of starvation," explained Thinus.
Through the generous gifts and donations of donors and partners it was possible to reach out to some of those who are struggling. 180 Pastors and their families received much needed food parcels and other necessities that they cannot afford.
"Allow me to tell you a story of a pastor in a region called Dukem. It is one of the most persecuted areas for Christians in Ethiopia. I cannot disclose his identity for his own safety. His wife was pregnant with their third child and on the brink of giving birth. But they had no food in the house for several days and they cried out to God for help. So God answered their prayers through the help of Harvesters Ministries. They received lifesaving food just in time. Right after they received the aid, his wife gave birth to a new member of their family. They referred to the food as miracle food like manna," shared Thinus passionately.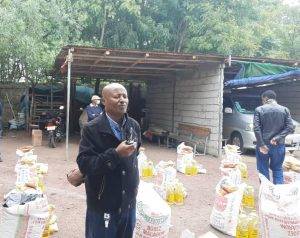 This is only one of many testimonies of how your generous gifts and donations have impacted the lives of pastors and their families who were close to starvation.
These pastors and families are forever grateful for your help and support during this pandemic. The work is however not done. There are still many more families in Ethiopia who desperately need your help.
Prayerfully consider giving your best gift today and help a family in need by clicking on this link: https://www.harvestersministries.com/en/donate/