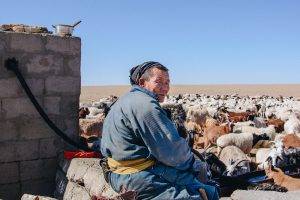 Mongolia – a country with a strong nomadic culture. This nation with a population of a mere 3 million people has a dire need for the Gospel. Most of the time one has to travel more than 50 kilometres before reaching the next believer. More often than not one will only find one Christian family in an entire village or community.
Even though Christians are far and few between, Christianity has grown from a mere 4 believers in 1990 to more than 80,000 believers today. This makes Mongolia one of the fastest growing Christian populations in the world. This was made possible largely through the initial work of foreign missionaries.
Some of the challenges in Mongolia include poverty and the fact that many of the country's people who live in rural Mongolia live a nomadic lifestyle. Many people live in Gers (tent-like structures) – they are mostly herdsman and live in a vast wilderness where it has always been difficult for the Gospel to penetrate. These families pack up their Gers, load them on camels and move across the country. This happens up to 11 times per year.
There are small villages of isolated and needy people all across Mongolia's landscape. "Mongolia has been one of the last political countries in the world to gain a Christian church of any kind," explains the Regional Director of Southeast Asia for Harvesters Ministries.
This creates the ideal circumstances for the Harvesters model, where we train local church leaders in Discipleship, Evangelism and Church Planting. This is the perfect way to reach these travelling families of Mongolia.
The Mongolian Church is just one generation old. There have not been enough indigenous church leaders and something needs to be done fast to change this. There has also been a lack of interest to plant indigenous churches.
Thanks to the grace of God this viewpoint has changed. Today Mongolian Christians realise that they are responsible for their own future. The young church in Mongolia are facing their own challenges due to a lack of trained and mature leaders.
"During our last two visits to Mongolia, Harvesters Ministries has had the opportunity to introduce a model of church planting," said the Regional Director. This model is dependent on indigenous leaders who train other leaders.
For many of these church leaders this was a completely new approach. They have since embraced this model. They know that Evangelism and Discipleship is the key to church planting and church growth.
Thanks to the commitment of Mongolian church leaders, it is now possible to reach communities in the vast wilderness of this precious nation with the Gospel. One can see people coming to Christ, being baptised, be united in a church and become disciples. They will in turn go out and make other disciples. This is how the Kingdom of God is expanding so rapidly in Mongolia.
"Through the church we will see God's mission accomplished both among believers and by believers in Mongolia with God's Spirit leading it," testified the Regional Director.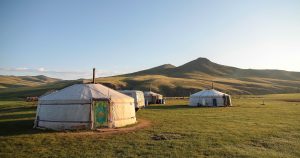 There is an ongoing commitment of indigenous leaders leading a new era for believers in Mongolia.
We are truly grateful for the help and support of faithful donors like you. You are helping to enable Harvesters Ministries to reach and train church leaders globally.
In 1 Corinthians 12: 12 we are reminded why it is so important that believers support one another and accept one another, "Just as a body, though one, has many parts, but all its many parts form one body, so it is with Christ."