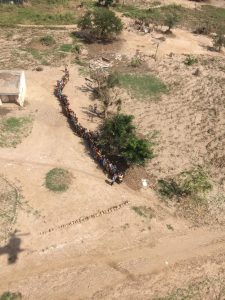 Mainstream media has largely stopped reporting on the catastrophe that hit our brothers and sisters in Mozambique, Zimbabwe and Malawi, but they are still in a battle for survival at the moment. As the preliminary reports flow in, it is clear that the devastation brought on by Cyclone Idai is far from over and dealing with the aftermath will bring many more challenges for the victims of this disaster.
It is with great sadness that we have learnt that Harvesters lost 18 church planting pastors, along with some of their family members, who lost their lives in Beira, Mozambique.
Pray for the congregations who have lost their leaders. Pray for the families who have lost loved ones. Pray with us for our distressed brothers and sisters. Pray that they will find their hope and refuge in our Lord Jesus Christ. He is the Author and Finisher of our faith.
Thank you for your continued prayers during this difficult time. When God's children go down on their knees – the fight does not end, it begins!
Philippians 4: 6 – 7 "Do not be anxious about anything, but in every situation, by prayer and petition,with thanksgiving, present your requests to God. And the peace of God, which transcends all understanding, will guard your hearts and your minds in Christ Jesus."
Our Brothers and Sisters Need the Word of God!
During Cyclone Idai many Bibles and study material were destroyed. Many of the thousands of Bibles that were destroyed were only handed out last June to pastors in Mozambique and Zimbabwe. Furthermore, most of the study material that were delivered to our storehouse in Beira was severely damaged.
Our pastors and student pastors are praying with all of us for a way to replace these Bibles and study material. 
Please pray with us that through the generosity of our faithful partners we will be able to not only replace the Bibles and study material that were destroyed and damaged, but will be able to do exceedingly and abundantly more for our brothers and sisters who are in distress.
You can be our Helping Hand
Keep standing with us in prayer believing that God will provide everything and more than we need to be able to replace these precious Bibles and study material.