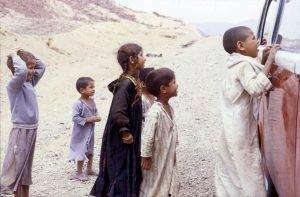 Egypt is a traditional Muslim country where Christians face persecution on a daily basis. The government openly discriminates against believers – even school children are being victimised by this oppressive regime. The persecution of Egyptian believers is an example of the poor status of Christians in the Middle East, despite the religion being native to the region.
The persecution varies from brutal attacks on churches, the kidnapping of Christian girls by Muslim extremists, school children experiencing daily discrimination by their teachers and the government making it almost impossible for believers to register new churches.
Cairo's Hustle and Bustle
Cairo is a very popular tourist destination. Many people have the pyramids of Giza on their bucket list and more than 14 million people visit these impressive heritage sights every year. Tourists are mostly unaware of the hard life that many believers in Egypt are living.
With more than 20 million people living in Cairo it is the largest city in the Arab world. Traffic is a complete nightmare and you definitely need nerves of steel to survive this bustling city's rush hour traffic. Despite this city being so densely populated, less than 10% of the city's population believe in Jesus Christ. This is a sad and harsh reality.
If one looks at the whole of Egypt – more than 88 million people have never heard of Jesus Christ and will be lost forever if they do not hear the Good News of the Gospel. Something must be done!
Believers Persevere Despite their Hardships
One pastor that Harvesters Ministries was fortunate enough to work with and train in Evangelism, Discipleship and Church Planting was Pastor Saeed. He was a true disciple who glorified God with his life. He used to host prayer meetings which started at 3:00am every Friday morning to avoid being caught by the authorities. What is so remarkable about these prayer meetings, is the fact that at least 100 people would attend it at a time.
Unfortunately, Pastor Saeed is no longer with us, but his legacy will live on in the hearts of the pastors who are still making disciples in Egypt and following his example.
Egyptian Pastors are Running with a Vision
Many Egyptian pastors want to lead the lost to Christ, but they were never equipped to share the Gospel and evangelise the lost. Harvesters Ministries have been fortunate enough to train pastors for the past two years in Egypt. This was made possible by the generous donations of donors who want to lead the lost to Jesus.
One pastor who attended the training said, "The most important thing is to gather the believers and then they go out to the homes. We didn't do that before." He went on to explain what the Harvesters training meant to them, "We learned at the conference that the most important thing is the people and evangelism."
The message of the Gospel is very important and must be shared with those who are not saved yet. Pastors in Egypt realise that they must go out and share the Gospel in order to accomplish their vision of seeing their country turn to Christ.
The pastors that attended the training said that it is possible for them to share the Gospel with Muslims – especially with their Muslim friends. One of the ladies that attended the training said, "We already have a small team that do that. Every week we go on visits and call people in the streets and pray in the streets. But we wait on God more and more."
Egyptian Pastors Need Your Continued Support
It is important to always remember that all believers across the world are part of the Body of Christ. We are all God's children. In 1 Corinthians 12: 26 we read, "If one part suffers, every part suffers with it; if one part is honoured, every part rejoices with it."
Pastors in Egypt are not on their own and it is important that they know that. You have made it possible for Harvesters Ministries to reach out to believers in Egypt. Thanks to you we can equip pastors, ensure that souls are won in Egypt and that communities are changed for Jesus.