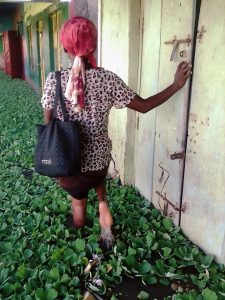 These are truly uncertain and strange times we are living in. As if the COVID-19 pandemic is not bad enough – our brothers and sisters from Busia, Kenya, recently experienced a terrible tragedy. A flood caused havoc – homes were damaged, hundreds of people lost their lives, and more than 100 000 people were displaced and left without shelter and food.
Many of the Harvesters Ministries Hub-leaders, pastors and student pastors were also affected by these floods. Pastor Mathias Dickens, one of the Harvesters Ministries county leaders in Kenya, said, "The situation is getting bad. Our student pastors were forced to leave their homes. Their area has never ever experienced this."
People are walking in rivers which once were streets. People are using doors as boats and trying to salvage whatever little they can from their homes. These people have lost everything – they need to rebuild their homes and their lives.
In Romans 12, verse 15 we read that we weep with those who weep and we mourn with those who mourn, but we as believers do not weep without hope; we do no not mourn without hope.
Despite all of this, they are still true to their faith. They are trusting the Lord in the midst of this terrible tragedy.
This reminds me of Colossians 4:2 that says, "Devote yourselves to prayer, being watchful and thankful."
You have the opportunity to support our brothers and sisters in Kenya by praying for them. Click on the link below to download this month's prayer guide and pray for Kenya as well as the many other countries and people groups Harvesters Ministries serve.
https://www.harvestersministries.com/en/prayer-calendar/