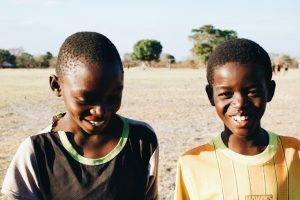 Zambia is a rugged country with many natural resources – including minerals, wildlife, forestry, fresh water and arable land. At the heart of this precious country is the mighty Zambezi River.
One of the areas where church leaders are being trained in Discipleship, Evangelism and Church Planting is the Copper Belt region. There are thousands of unbelievers who have never heard the Good News.
The Luvale tribe live in the north-western part of the country and it's the second group of people that Harvesters is training. They are in dire need of the Gospel. There are more than 700 000 Luvale who will perish forever if they do not accept Jesus Christ as their Saviour.
Zambia experienced a crisis a while ago where many people were horribly affected by a flood. Areas that are usually bone dry were completely flooded. People were living in fear and having to cross rivers full of crocodiles. Bridges were washed away, homes were damaged and people lost many of their belongings.
One of our volunteer partners seized this opportunity and made boats available to help the people cross the water safely. He used this opportunity to share the Gospel with those who do not yet know Jesus. This is evangelism in action!
This was made possible through Harvesters Ministries' training. Pastors were equipped to share the Gospel and reach the lost with the Truth.
Download this month's Prayer Guide to pray for the people of Zambia. Pray with us for a different country every day and change lives with your prayers. Pray that the lost will have the opportunity to hear God's Word before it is too late.
https://www.harvestersministries.com/en/prayer-calendar/
In Jeremiah 33: 3 it is clear that the Lord answers prayers, "Call to me and I will answer you and tell you great and unsearchable things you do not know."
Click on this link to see what Harvesters Ministries is doing in Zambia: