These are strange times that we are facing. Many of us are confined to our homes and some of us are blessed enough to have a back yard that serves as some form of escape.
The first that comes to mind when you think of a back yard might be relaxing, planting some vegetables, mowing the lawn or even painting a fence. I am almost certain that the minority of you thought that your back yard is the perfect place to run a marathon let alone an ultramarathon.
One of our very own staff members, Frans Goosen, w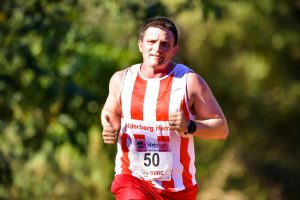 ill be completing an ultramarathon on Saturday, 11 April 2020 in his own back yard. He will be doing this by running 110 metre laps until he has completed 56 kilometres. The Two Oceans Ultramarathon was going to take place on 11 April in Cape Town but due to the National Lockdown in South Africa this event had to be cancelled.
Frans has however been training for this event by running 100 kilometres per week and has decided that this lockdown is the perfect time to not only stay fit but to ensure that the Gospel can continue to spread throughout the globe.
We would love to raise R56 000 in South Africa, ₤3 000 in the UK and $3,500 in the USA. (This amounts to approximately R1 000 / ₤50 per kilometre and $100 per mile.)
Prayerfully consider taking up this challenge and helping Harvesters to ensure that the lost will come to Christ. The need for the Gospel is great and the time is now to answer this urgent call.
Frans is aiming to complete the distance of 56 kilometres (35 miles) in 7 and a half hours' time. If a generous donor is willing to make a once off donation of R10 000 ($1000 or ₤1000) Frans is willing to cut this time down to 7 hours.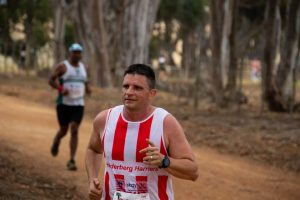 All of the funds raised will be used to ensure that the Word of God can continue to be shared across the globe.
You can watch Frans run on Saturday, 11 April on the Harvesters Ministries Facebook page. A short video will be placed every few kilometres. His race will start at 05:00 South African time. His wife and children will be supporting him with snack and water tables throughout the day.
We are reminded of Hebrews 12:1 which says, "Therefore, since we are surrounded by such a great cloud of witnesses, let us throw off everything that hinders and the sin that so easily entangles. And let us run with perseverance the race marked out for us,"
You can make a donation by direct deposit, following the GivenGain link or using Zapper or Snapscan.
Banking details:
Harvesters Ministries
ABSA Bank
Account number: 4075041297
Branch Code: 632005
Reference: GA0420EM+[your name]
https://www.givengain.com/ap/leandra-goosen-raising-funds-for-harvesters-ministries/#updates